Olive oil Turkey; Our country has an important place in olive oil industry. For this reason, it attracts great attention by individuals and institutions engaged in olive oil trade. Meanwhile, if you want to buy olive oil from Turkey, you are at the right place. Why? Let's find out.
Turkish Olive Oil
Turkish olive oil; which is quality is known and preferred by all the countries of the world. Olive trees grow especially in and around the Mediterranean. That's what makes Turkish olive oil an important place in the market. As a result, the soil structure and climatic conditions of each region are different. For this reason, the aroma of olive oil we obtain varies from region to region.
As in every other subject, usage habits and palate taste play a very important role in olive oil consumption. No need to go to different countries. Because, the Mediterranean climate, which is valid in the Mediterranean and Aegean regions in our country, causes olive and olive oil production is intense in these regions. Even the olive oil production in the cities of these two regions differs.
Turkish Olive Oil Brands
The increasing importance of healthy nutrition in recent years has doubled the consumption of olive oil. For this reason, olive oil producers, who produce with traditional methods, increase their production capacities day by day in line with the increasing demand. In addition, olive groves are created professionally for investment purposes for future generations. In addition, branding studies continue rapidly and necessary investments are made.
Turkish Olive Oil Companies
Olive oil companies, which continue their branding and production activities, are increasing their number day by day. Olive oil companies, especially concentrate in the Aegean and Mediterranean regions, carry out different studies. Because the capacity and opportunities of every company are not the same. For this reason, some olive oil companies only grow olives, and make a living by squeezing these olives in squeezing factories. Some companies only do the squeezing process and accept olive oil as a form of payment. Don't you think it's interesting?
Companies like us manage all these processes in-house. As an example, we collect our olives from our own garden. Then it turns into olive oil in our own squeezing facility. After this process, it is filled into packages in the filling unit. Finally, we provide domestic and international shipping.
If you want to buy quality olive oils made from olives grown in our country, you are at the right place. We manage all stages of this journey, which starts from the olive branch and ends at the table, with great precision. To buy 100% natural olive oil, you can contact us from the contact section. You can also start a conversation with our sales representative by clicking the Whatsapp icon.
Best Olive Oil
Buying and using the best olive oil is something everyone wants. But how do you know if the olive oil you buy is the best? There are many different ways to do this. Especially for the end user, its smell and taste are distinctive features. When you taste olive oil, there should have some bitterness in your mouth and it should burn your throat. If there is no bitter taste, that olive oil is not pure olive oil.
Best Olive Oil Turkey
Turkey's best olive oil production is in the Mediterranean and Aegean regions. Due to its unique climate and soil characteristics, its aroma and smell are excellent. However, if you are going to import olive oil, analysis reports will be guiding instead of all these. The analysis reports of the olive oil you will buy must be absolutely necessary. Lastly, this way, you will not encounter any negative situation.
All analysis reports of the olive oils we sell are available under the Taha Kervan brand. For this reason, you can buy Taha Kervan olive oil with peace of mind. Thus, you will earn money by selling olive oil. You will be delivering an extremely healthy and high quality product to your customers.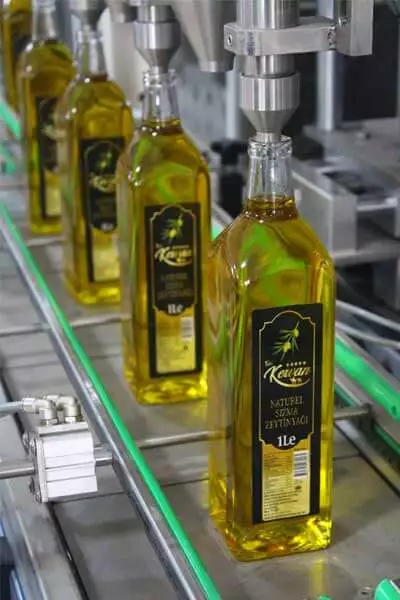 Wholesale Olive Oil Turkey
Firms producing olive oil in Turkey sell olive oil wholesale. Because, olive oil is in demand by olive oil wholesalers and food companies. The biggest reason why these companies want to work with olive oil producers is the price advantage. The security of the whole process is also preferrable.
We sell wholesale olive oil that we produce in our own facilities. We fill the packages in line with the demands of our customers. However, some of our customers request their wholesale purchases in 1000 liter IBC tanks. For this reason, it will be sufficient to tell us in which package you want the product before ordering. Buying wholesale olive oil will give you a price advantage. Lastly, if you want to buy wholesale olive oil from Turkey, it will be enough to contact us.
Olive Oil Export From Turkey
Olives grown in Turkey has a very high quality. Because, Turkish olive oil is preferred by many countries. In addition to the quality of olive oil in our country, it is also preferred because it is economical. Meanwhile, according to the latest information, the olive oil export figures of our country are around 100 million dollars. Another reason for this is the logistics advantage. Eventually, according to many countries, logistics costs are quite affordable.
If you want to be a leader in the countries you sell to with a product with a high quality and price advantage. We think you should get to know us. After determining the product you want, we can start the export process. Because, our staff specialized in export will carry out the whole process professionally. It will be enough to contact us. Finally, if you happen to be in our country, we would be happy to host you in our factory.
Olive Oil Turkey FAQ