The issue of Extra Virgin Olive Oil Halal is a very curious subject, especially by Muslim societies. To summarize, it certifies that the process from the fruit in the olive garden to the extra virgin olive oil on the table is in accordance with Islamic conditions. Let's shed some light on the Extra Virgin Olive Oil Halal.
What is olive oil?
Firstly,It is a healthy and nutritious oil obtained as a result of squeezing the olive fruit. The fact that our country is surrounded by seas on three sides has led to the dominance of the Mediterranean climate. For this reason, olive and olive oil production carries out in many cities. Meanwhile, it is Highly recommended by specialist doctors, olive oil is an indispensable type of oil for health and taste.
There are many benefits of using olive oil. You can take a look at our article "The benefits of olive oil", where its benefits on the circulatory system, nervous system, digestive system, excretory system and movement system explained in detail.
The limited production of olive oil in the world makes olive oil commercially important. Because, Olive oil is produced in countries where the Mediterranean climate prevails and sales are made from these countries all over the world.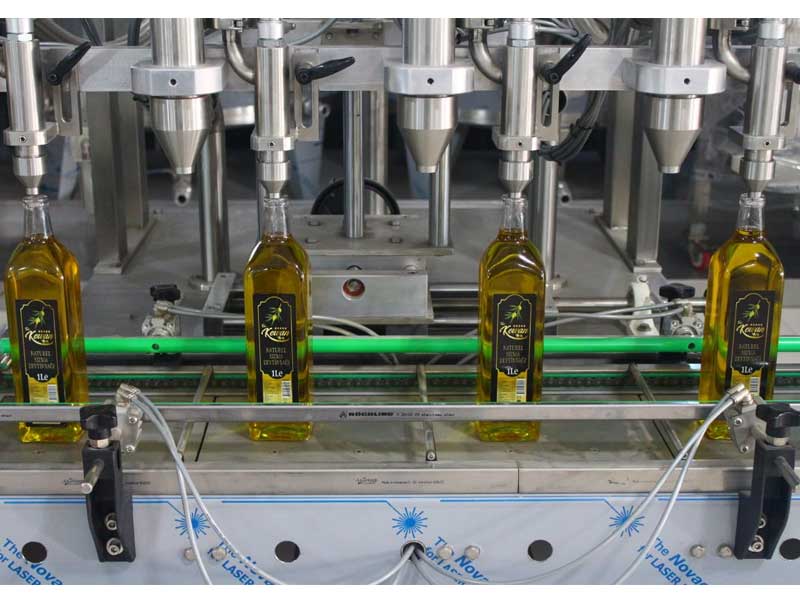 Varieties
There is a long process from the tree grows in the garden to olive oil, which indispensables for our breakfasts. This process causes the oil to be of different quality and variety. Briefly, the types of oil are as follows.
Natural Extra Virgin Olive Oil
It is known as the best quality olive oil. It is a valuable olive oil which is usable in salads and breakfasts. The amount of oleic acid in every 100 g is 0.8% or less. For this reason, the most preferred olive oil is extra virgin olive oil.
Natural Virgin Olive Oil
The only difference between it and extra virgin olive oil is the amount of acid in it. The amount of oleic acid in it is between 0.8% – 2% in every 100 g.
Pure Olive Oil
It is olive oil that is not suitable for direct use and is of lower quality than natural oils. It is a type of olive oil with an acid rate higher than 2%.
Riviera Olive Oil
It is a type of olive oil we obtain by mixing refined olive oil and extra virgin olive oil. We generally use in cooking and frying.
Early Harvest Olive Oil
It is a type of olive oil and produced from olives harvested before they are ripe. It is a premium olive oil preferrable especially by those who seek gourmet taste.
Cold Pressed Olive Oil
It is a type of olive oil which is production is at temperatures below 27 degrees. The low temperature during the squeezing process causes the taste, smell and appearance of olive oil to be better.
Properties
Olive has positive meanings for every period. Olive oil obtained from olives is also a very healthy and delicious product. Its use is recommended by specialist doctors. The use of olive oil, which has many benefits on the body, is very important.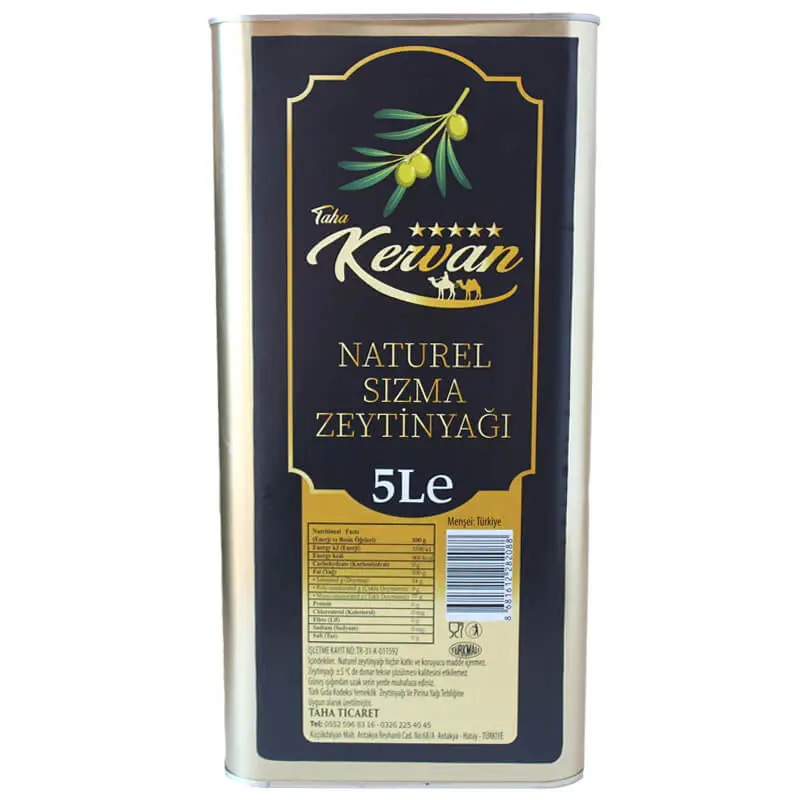 Natural Extra Virgin Olive Oil
We produce extra virgin olive oil under the brand Taha Kervan. We produce olive oil from the valuable olives of Hatay and sell it under the brand Taha Kervan.
Production
We produce high quality olive oil in our olive oil factory, which has a closed area of ​​5000 square meters. We produce the most delicious and healthy olive oil for our customers. For this reason, our customer portfolio is increasing day by day. We are carrying our olive oil production experience, which we have gained since 1977, forward every day.
Olive oil productions carries out with great care. We deliver olive oil produced in international quality standards to your tables with great care. We produce all kinds of olive oil in our olive oil factory located in Hatay region. You can visit us to see our production facility and taste our products.
Bottling
Firstly, We bottle the olive oils that we produce in the olive oil factory to the extent that our customers want. Secondly, we are bottling in 500 ml, 1000 ml, 5 liter and 18 liter packages as standard. Lastly, We make bottling with fully automatic filling machines without touching.
The bottling of olive oil is very important in terms of olive oil sales. The customer first encounters the packaging of olive oil. For this reason, the better the packaging design, it gets easy to sell.
Sale
The demand for olive oil has increased considerably these days, where healthy life is gaining importance day by day. For this reason, we sell olive oil to many countries from our country. Apart from this, our domestic sales continue. We only sell olive oil wholesale. Companies that buy wholesale olive oil from us sell to customers on a retail basis.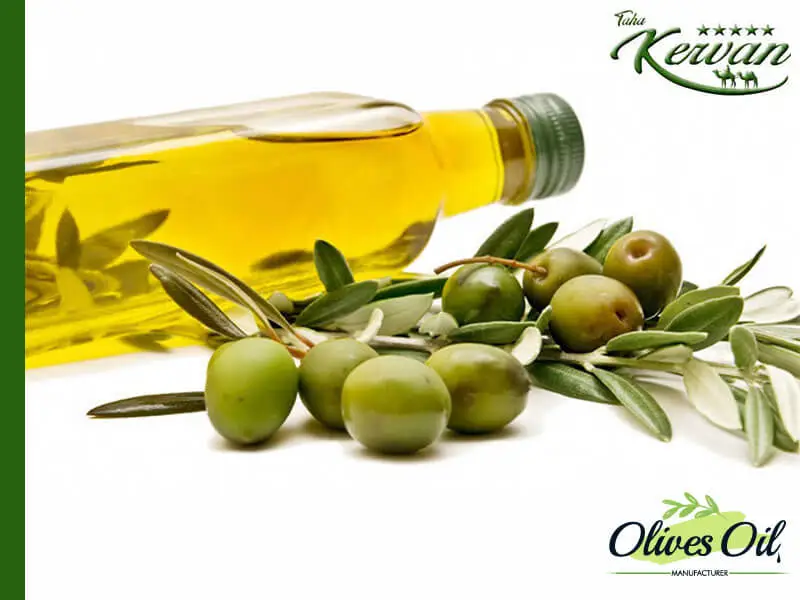 Halal Extra Virgin Olive Oil
It is in demand especially by Muslim countries, and has standard extra virgin olive oil. Because, It has been entitled to receive "halal" certificate by independent certification bodies only at the request of the manufacturer. It has been documented that the whole process, from the garden to the table, is produced in accordance with Islamic conditions.
In the world where millions of Muslims live, halal certified olive oil is in high demand. Obtaining a halal certificate is proof that many good manufacturing practices also implementes. For this reason, production facilities with halal certificate are always more in demand.
Halal extra virgin olive oil proves that the whole process, starting from the olive produced in the garden, until it becomes olive oil, is made under Islamic conditions. It shows that the production process, which is evaluated from the beginning, is in a way that befits Islamic conditions and humanity. In addition, it is the product that has been documented not only for production, but also for the materials and methods used for packaging and filling, in accordance with Islam.
Companies or individuals who want to buy extra virgin olive oil halal products can contact us and get detailed information. Our company, which produces and exports olive oil, offers our customers the most suitable production and export solution.
Supply
Companies that sell olive oil want to contact the producer company. The biggest reason for this is that companies producing olive oil sell at more affordable prices. In addition, purchasing from olive oil factories will provide an advantage in product diversity.
Another advantage of purchasing olive oil from the producer company is that there is no supply problem. After purchasing products from companies that sell olive oil wholesale, you may not find the same product in the desired quantity in your next order. But there is always as much olive oil as you want in the olive oil factory.
For these reasons, it makes more sense to work with olive oil producers. Our customers who want to buy halal natural olive oil will only need to contact us. You can contact us from the contact page, our social media accounts ( facebook – instagram – pinterest – google ), our e-mail address or the whatsapp icon.
Export
Olive oil manufacturer is an exporter company that produces olive oil with the Taha Kervan brand. The fact that our country is among the preferred countries for olive oil exports makes the issue of export more important. For the export of olive oil, a production of high quality and controls by independent organizations requires. For this reason, our company is coming to better positions day by day.
The products and packaging once completes we deliver in the form of EXW, FOB or CIF, upon the request of our customer. We manage the export process professionally. Thus, customer satisfaction is at the highest level.
If you have interest in the export and import of olive oil, it is enough to contact us. Our expert team in export will offer you the most suitable export solution. For detailed information and communication, just contact us.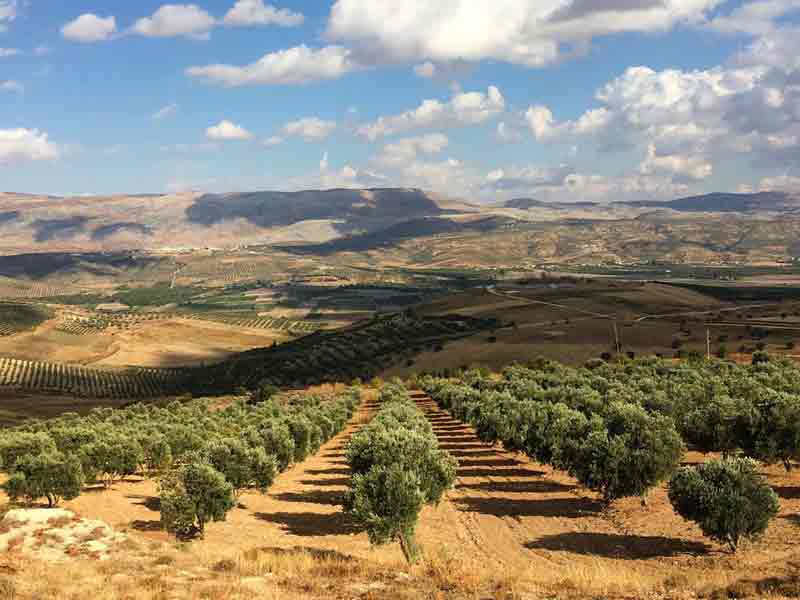 Extra Virgin Olive Oil Halal FAQs